Mitch & Erin Hayes Live Review – July 2018 Music Connection Magazine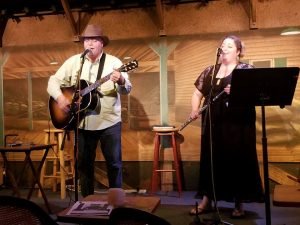 Material: Mitch and Erin Hayes are an acoustic country/folk/Americana duo with a unique twist. They're difficult to pinpoint, but that's because they don't sound like anyone—and that's the twist. The songs are expertly crafted and extremely melodic. At the end of every tune you're saying to yourself, "That was a great song." If there is a "problem," here, it is that at the end of the set, you have said that about every song.
Musicianship: Mitch and Erin both have exceptional voices and play their instruments extremely well. Mitch kept the rhythms going with his guitar and Erin added flavor and zest with her flute. There's great finger-picking on "My Reflection"—the musicianship song of the afternoon—that flowed over the top when  the flute arrived and mixed with exceptional vocals. Erin is a wonderful flutist and an outstanding background singer. "A Long Way Home" brought out the best in her.
Performance: The music, musicianship and sound system carried this show and that was all that was needed. Both Mitch and Erin are confident in their abilities and it showed in their music. "The Word is You" and "A Long Way Home" are the two that stand out the most, but "Hand of The Devil" and "Muse" were a very close second (and for the souls spilling over with hard rock desires, check out "Firewater").
Summary: Mitch and Erin Hayes, hailing from North Carolina on their Chasing The Pacific Sunset Tour, are a brilliant duo with an engaging vibe. Their sound is contemporary Americana with a country/folk twist at its best. This duo's acoustic setup, flute and terrific vocals make for a great afternoon of singer-songwriter compositions. – Pierce Brochetti
Read the review at musicconnection.com