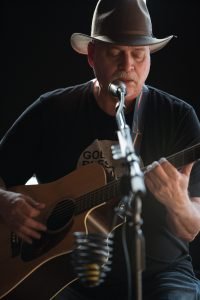 Americana/Folk Artist of the Year" (2016 and 2018 Queen City Music Awards), Mitch Hayes is an award-winning singer/songwriter, recording and national touring artist from Charlotte, North Carolina who now calls Oklahoma home. His music is as eclectic as the creative influences that have helped to shape his writing through the years, classic singer/songwriters such as Bob Dylan, Neil Young and John Prine, to name a few. Mitch's lyrics will take you on an emotional journey through timeless themes of love and loss, joy and sadness and social consciousness. In his songs, the listener will hear elements of Folk, Rock, Country, Blues, and even a little Bluegrass.
What The Press are saying: 
June 2023 album review, "Gentle Man"
"At first glance, I thought this would be a shmaltzy collection of reminisces dedicated to a family member who has passed. And it is. But it's far from shmaltzy. It's actually quite an impressive work. It's done with class, respect & the majority of the songs are strong, well-recorded & performed…..What's evoked here is something that any listener can relate to since eventually, we all experience such loss, sadness & we'll have to draw upon memories to summon their spirit…..This effort is Mitch's 4th character-driven album. Hayes' vocal is not like an old sage but a confident vocalist rendering tales & keeping the majority heartwarming." (Americana Highways).
"Mitch & Erin Hayes hailing from North Carolina on their Chasing the Pacific Sunset Tour, are a brilliant duo with an engaging vibe. Their sound is contemporary Americana with a country/folk twist at its best. This duo's acoustic setup, flute and terrific vocals make for a great afternoon of singer-songwriter compositions…At the end of every tune you're saying to yourself, "that was a great song."…at the end of the set, you have said that about every song" (MUSIC CONNECTION MAGAZINE).
"Where do great songs come from? Author, Fredrick Buechner, says his prose comes from the place where he dreams. John Prine compared songwriting to fishing as he refers to 'catching' songs. For North Carolina singer-songwriter, Mitch Hayes, his best songs come from such a deep place in his soul, he feels like more of an instrument than the author of the songs he writes" (NO DEPRESSION – THE JOURNAL OF ROOTS MUSIC)
To date, Mitch has released four CD's. His 2023 release, "Gentle Man" is currently doing well nationally on Folk Radio. In 2017,  two of Mitch's songs from his CD "Heroes" made the Top 100 of the respected Friday Morning Quarterback Chart: "All Fall Down" peaking at #23 and "Look at You" at #40. When one considers Hayes was competing for airplay with such household name artists as Adele, John Mayer, Bruno Mars, and Ed Sheeran, this is impressive. "All Fall Down" was also submitted for Grammy consideration in that same year.
Notable Music Markets Played:
Nashville, TN – The Commodore Grille, Bobby's Idle Hour, Douglas Corner Café, Neighbors Sylvan Park
Austin, TX – The Carousel Lounge, House Wines, New World Deli
Dallas, TX – Opening Bell Coffee
Los Angeles, CA – Kulak's Woodshed, Coffee Gallery Backstage, Genghis Cohen, Lenny's Smokehouse, Brewyard Beer Company
New Jersey Shore –  Cafe Artiste at The Jersey Shore Arts Center, Water Witch Coffee, The Chubby Pickle
New Hope, PA – John & Peter's Place
Videos:
Live at Wired Coffee Espress, April 12, 2022
My Reflection from the The Wilson Center Ghostlight Series April 21 2020
Kulak's Woodshed – North Hollywood, CA – Mitch & Erin Hayes
A Long Way Home with Mitch Hayes Trio
Tiny Stage Concert with Mitch & Erin Hayes