Mitch's Muse – December 2019
A November to Remember
Hello everyone! So much has happened since my last letter to all of you. For starters, I had an amazing Northeast Mini-Tour. I made my way up to the Jersey Shore to reunite with my friend Tara Dente, who came through our area on tour in September and played two shows with me in Charlotte and Kannapolis. She returned the favor and helped me book three shows in New Jersey and one in Pennsylvania and of course joined me on one of the Jersey Shore shows.
On Nov 14 and 15, I played two really cool music venues in Highlands, NJ. On the 14th I was with Tara and her friend Kevin Daly at The Chubby Pickle for a songwriter showcase. It was so much fun once again playing a show with Tara, watching her work her musical magic and the folks in The Pickle, loving it. Then on the 15th, I played at the iconic Water Witch Coffee. Managed by owner Valerie Browning, Water Witch is a coffee shop and bakery by day and a cool "vibey" and intimate music venue by night. I love playing listening rooms, like this. Thank you, Valerie. Next up, John & Peter's Place in New Hope, PA on the 16th with some of the areas best loved musical acts. Thanks to Brian Erick for placing me on this bill, it was such an incredible night. Every artist that took the stage was just outstanding!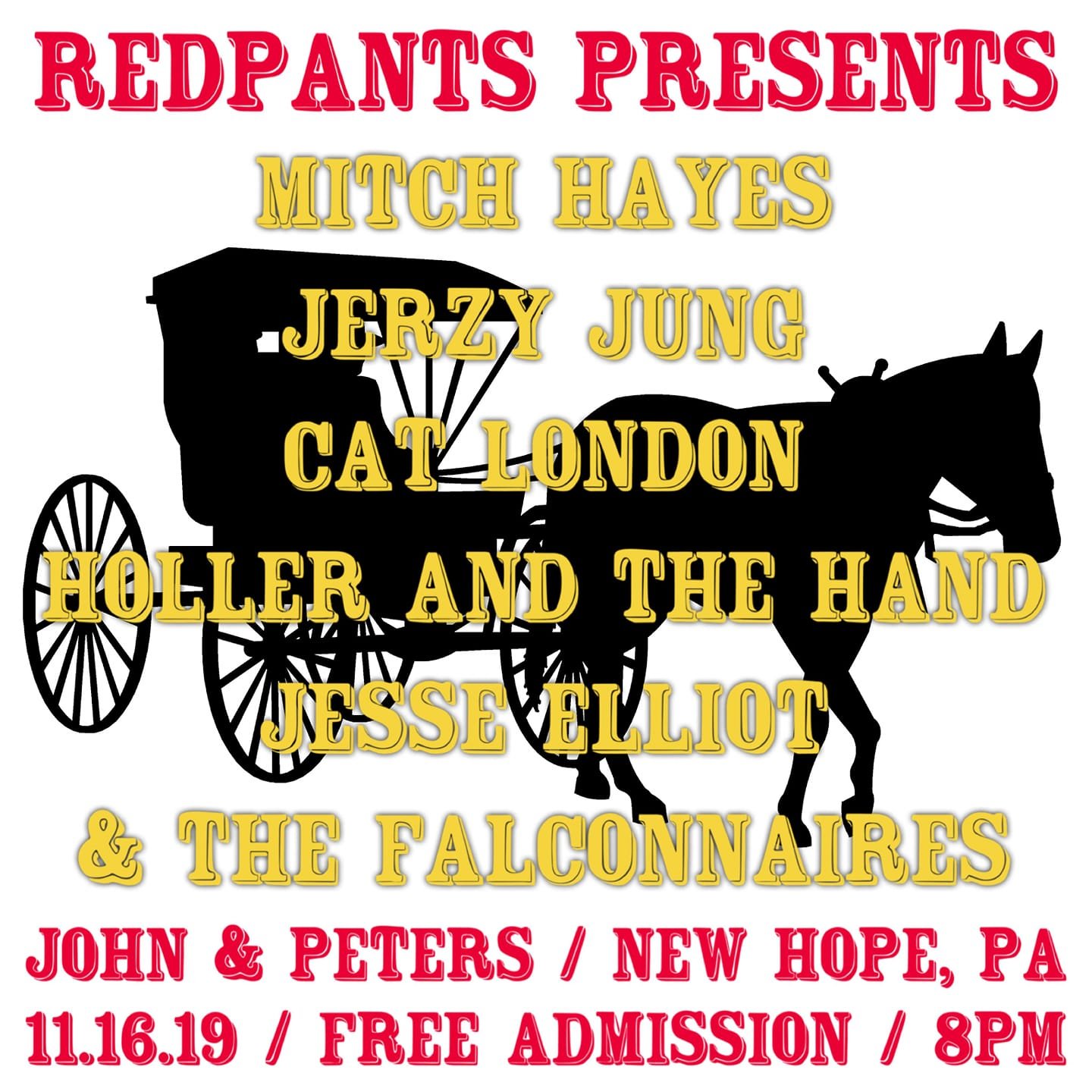 Then on Sunday, Nov 17, I had the pleasure of seeing Tara Dente And The Blind Pilots perform at the famous
Danny Clinch Gallery
in Asbury Park. It was a fabulous show, Tara and the band were simply amazing! I could listen to her sing all night! To learn more about the Danny Clinch Gallery, click the above link and check it out. It's truly "one of a kind." And if you're a Bruce Springsteen fan, you'll especially love it.
After a couple of days off, allowing me to tool around the Jersey shore, taking in all the sights, I was honored to be asked to play the Songwriter Showcase at Café Artiste. located in the Jersey Shore Arts Center Every Tuesday, show creator Janet Rothstein hosts this well respected showcase at the Café, highlighting the talents of area NJ, NYC and PA songwriters as well as national touring artists. It was truly an honor to be on that stage!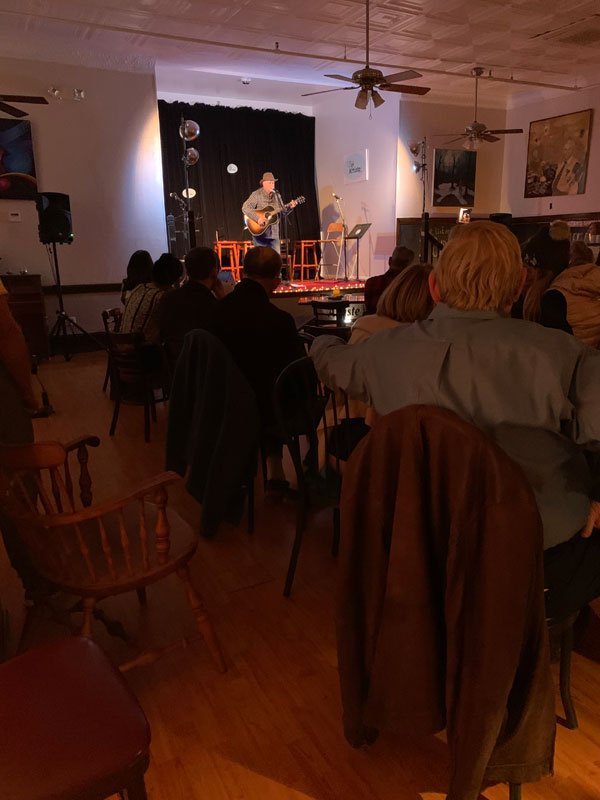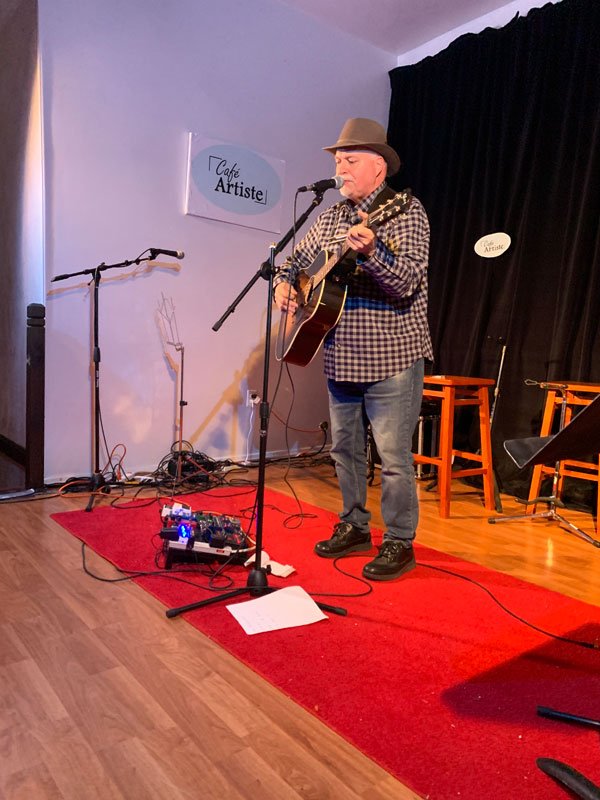 I had such fun in Jersey and PA, I can't wait to plan another trip back up there. And as if this wasn't enough fun and musical mayhem, on Wednesday night, I made my way to Virginia Beach, VA to do a set at Big Woody's, a long-standing open mic and songwriter showcase hosted by the legendary Karl Werne. It was an awesome night and I had such a blast performing with Karl, quite the amazing guitarist, sitting in. What a successful road trip this was!
So how do I top all of this? I'll tell you how. I've just released my two new singles, A Long Way Home and Firewater, for download, That's How! Yes, they are finally ready and you can download them Right Now from www.MitchHayesMusic.com.
Props to Eric Lovell at Blu Bubble Studio, Charlotte, NC. He did such a masterful job and I'm proud of what we accomplished together along with my amazing daughter Erin Hayes on vocals and Flute. These are two of six songs that will become the debut Mitch & Erin Hayes EP, A Long Way Home. Yes, we are recording a Duo project, Finally! This has been a long time coming and I'm so excited for all of you to be able to hear us as a duo. You've heard us perform together, now you'll be ale to have some of our music for your own! Yay!
Well, I suppose I've rambled on enough, for one newsletter. As always I thank all of you my friends and fans for your continued love and support! You are the reason I I'm able to do this thing I love so much. Again, thank you!